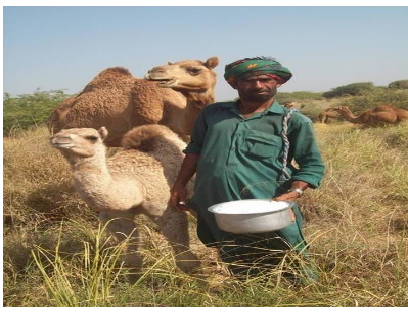 Rajkot: After a long wait, India's first camel milk processing plant will commence operation by March end this year in Kutch.
Kutch District Cooperative Milk Producers Union Ltd popularly known as Sarhad Dairy has received formal confirmation of release of grant from the government of Gujarat and will soon initiate tendering process for the procurement of machinery. Gujarat Cooperative Milk Marketing Federation (GCMMF) which markets Amul brand will market camel milk.
GCCMMF has been selling chocolate made of camel milk since last four months. For this, Sarhad Dairy has supplied 40,000 litres of camel milk till date.
Confirming the development, Sarhad Dairy chairman Valamjibhai Humbal told TOI, "We were promised Rs 3 crore grant. Of this, we got Rs 1 crore two years back and last week we got confirmation on release of the rest Rs 2 crore from the state government. We have initiated the process of tendering for procurement of machinery." The plant will be located in Lokhond village about 10km from Bhuj city near the existing milk processing facility of the dairy.
Camel milk is good for diabetic, cancer and high blood pressure patients. Few doctors in Mumbai are demanding 400 litres of camel milk per day but transportation is very costly. "It's very costly to procure camel milk because the farmers are scattered. Also, the milk has small shelf life compared to normal cow or buffalo milk. Currently, we procure the milk for Rs 51 per litre. And to transport it to Mumbai by air is a costly affair," said Vishram Rabadia, director at Sarhad Dairy.
Once the processing plant becomes operational camel milk will be available in pouches and bottles. Though there is no huge market for camel milk, Sarhad Dairy is expecting to sell it in urban areas under the brand name of Amul.
The dairy is expecting to procure 5,000-6,000 litres of milk per day (LPD) once the plant commences operation. It will make skimmed milk powder (SMP) from the unsold milk, said Rabadia. "There is a huge market for camel milk powder in Dubai. We will export the SMP there. We also expect some hospitals and pharmaceutical companies to purchase camel milk powder. This is the only milk which has vitamin C and is good for lactose tolerant people. The camel milk also has phosphorus," added Humbal.
For the camel milk processing unit, the state government has provided 67% funds under the Rashtriya Krishi Vikas Yojna (RKVY) while the rest 33% cost is being borne by the dairy
First published by The Times of India