Viswanathan encourages people to visit his farm and themselves harvest the vegetables they want to buy from him
Imagine picking your own veggies or watching them being picked! When my sister-in-law said she had come across a place where we could do this, I could hardly contain my curiosity and went in search of the person behind "Pick and Cook".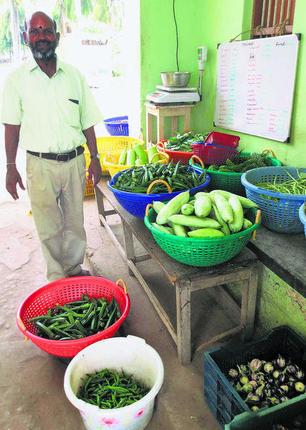 A large colourful signboard announces its presence on the side of the Puttuvikki road, en route to Kovaipudur, which is home to farms where you can see people hard at work. As I approach the area where the herbs, fruits and vegetables are weighed and sold, I'm greeted by a slight gentleman, who introduces himself as Viswanathan and patiently answers my questions.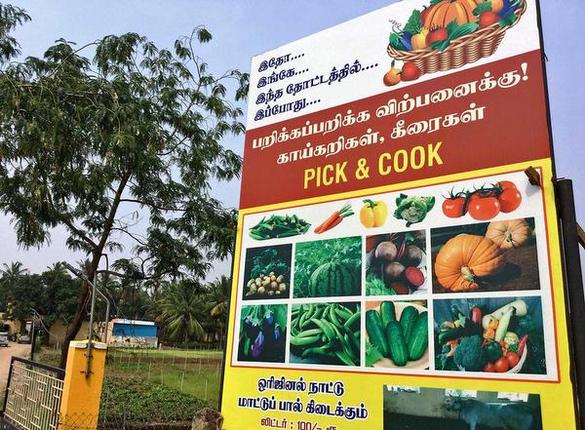 He tells me that I'm welcome to pick whatever I want to buy. Not everyone knows how to pick produce without damaging the plants, so his farm hands are more than happy to help. I point to some aromatic coriander and fat limes to add to my bill. Viswanathan refuses to use the word organic because he believes people often overcharge when they do that. But he uses no pesticides or chemicals, just different kinds of compost and biological plant-derived nutrients. The herbs and greens are picked only on demand while the rest are harvested by mid-morning.
He walks me through the farm. The 75 acres that he manages have been in his family for several decades. He has dabbled in many things including producing jaggery and making plantain chips with green bananas from his farm.
Being passionate about correct farm practices,he also conducts classes for school children. As we conversed, more customers arrived giving me an opportunity to talk to them.
Shubir Roy says that he has been buying from this farm ever since he noticed the sign when he passed by on his way home to Kovaipudur a few months ago. There's no doubting the freshness of the vegetables bought here and that's what makes him frequent the place. He has brought along a colleague to introduce him to the place. He says he has seen the number of visitors grow since he first came here.
Shameem, also from the Kovaipudur area, says she has been coming here for two months and is most satisfied with the quality of the vegetables and that they taste so much better.
A dance teacher at St. Francis, Muralidharan says he comes here instead of going to the regular market in town upon his daughter's insistence.
Viswanathan has been written about in Tamil magazines for his extensive study of agricultural practices. He also owns land in Ooty where he cultivates strawberries, zucchini,cauliflower among other things. He recently held a keerai mela where he showcased many recipes ranging from a simple keerai soup to more complex methods of using as many as 12 different varieties of spinach.
In order to be able to teach people to enjoy their food, he believes that they need to witness the vagaries of agriculture. That forms an emotional connect to the soil that automatically translates to the food on the plate.
We're all veering towards the farm to table concept, but a friend recently told me that she would love to take her kid to a farm where he can pull something from the ground that she could then buy and bring back to cook for him. At Iyar farms, you can do just that!
---
First published by The Hindu