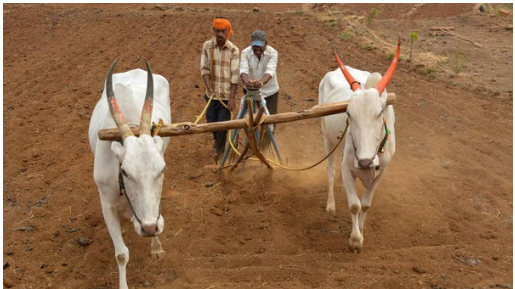 Researchers studied the effects of changing climatic conditions on yields of five monsoon (kharif) crops. (Photo: PTI)
Situation has worsened due to the sluggish pace of the southwest monsoon
The study shows that yields from India's main crop, rice witnessed larger declines during extreme weather conditions
New Delhi: More reliance on a single crop – Rice, could render India's food supply more vulnerable to rising threats of climate change, says a new study, urging farmers to selectively expand areas planted with alternative grains to counter the loss.
The findings published in journal Environmental Research Letters have come at a time, when large parts of India, covering Maharashtra, Madhya Pradesh, Andhra Pradesh, Telangana and Jharkhand are reeling under drought conditions.
The situation has worsened due to the sluggish pace of the southwest monsoon which is solely responsible for irrigating over 50% of the agricultural land. As on Tuesday, many as 30 out of total 36 sub-divisions of the country are facing rain deficit of over 20%, with four subdivisions under a deficit of more than 60%.
Researchers studied the effects of changing climatic conditions on yields of five monsoon (kharif) crops: finger millet (ragi), maize, pearl millet, sorghum (jowar) and rice over a period of last 46 years. The yields were compared with corresponding data on temperature and rainfall from IMD for 593 districts across India.
India's monsoon region has been on decline in terms of the the total rainfall received over the last 50 years. While the extreme rainfall events have become frequent and more variable, the severity and frequency of droughts has also increased since 1970s.
The study shows that yields from India's main crop, rice witnessed larger declines during extreme weather conditions, compared to millet, sorghum and maize which showed better resilience to extreme weather and inter-annual changes in climate and also witnessed smaller declines during droughts.
"By relying more and more on a single crop-rice, India's food supply is potentially vulnerable to the effects of varying climate," said lead author Kyle Frankel Davis, an environmental data scientist.
At present, rice accounts for 44% of annual grain production and 73% of grain production during the monsoon season (kharif), while alternative grains -Maize (15%), pearl millet (8%), sorghum (2.5%), and finger millet (1.5%) contribute to the remaining portions and are regionally important for rural livelihoods and diets.
The study highlighted the need to expand the area planted with other four alternative grains can reduce variations in Indian grain production caused by extreme climate. "Doing so will mean that the food supply for the country's massive population is less in jeopardy during times of drought," said Davis.
However, he added, that the social, cultural, economic, and food security implications of and obstacles to doing so would, likely be numerous as maize is not a widely consumed traditional grain in India and is increasingly used for feed.
Researchers highlight that the weather situation may get worse in coming years, with more uneven distributions of precipitation during the monsoon season compounded by rising temperatures which would adversely impact the yields of major crops.
"Diversifying the crops is an effective way to adapt its food-production systems to the growing influence of climate change, improve nutrition, reduce agricultural water demand and at the same time reduce energy demand," said Davis.
First published by Live Mint on 25 Jun. 2019