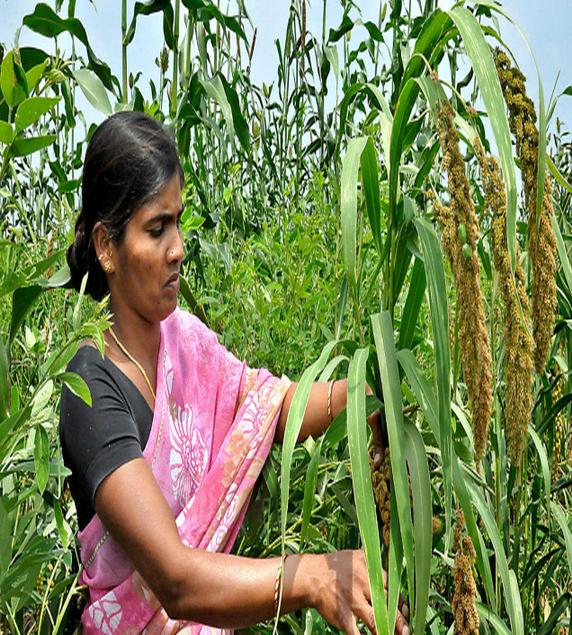 Government asked to look for solutions from within the local farming communities
While scores of farmers had to endure drought and the Telangana Government seems determined to take up major irrigation projects across the State to provide water to agriculture, a small farmer from Medak is claiming to have made a handsome income from her three-acre farm growing millets, oilseeds and pulses – without any irrigation source or borewell.
Thirty-year-old M. Vinoda's efforts have already won her laurels having bagged the best farmer award last year and this year despite drought and despair all round.
Hailing from Raikode mandal of Medak district she claims to have made Rs.2 lakh on her farm growing indigenous dryland crops, using own seeds and bio-fertiliser utilising methods passed on through generations. "I have not depended on the Government for anything, not for water, fertiliser or seeds. Our crops are nutritious. We grow enough to feed my family, livestock and even the birds," says the little built mother of three, facing a barrage of television cameras and news photographers here on Monday.
Indigenous methods
The farmer was presented before the media by the Deccan Development Society (DDS), a voluntary organisation working towards preservation of indigenous farming methods, in its campaign against the Government's alleged move to go for Soya and Maize cultivation plus big size irrigation projects encouraging "farmers to go for water intensive Paddy and Sugarcane". "We had high hopes from the Government when it announced the agriculture policy. We are alarmed as the latest initiatives are not going to help the peasants. Telangana has traditionally been a land of diverse farm practices and turning it into mono-cropping cultivation is not right," said P.V. Sateesh, society director.
Water-intensive crops
The Government was rooting for water-intensive crops spending a lot of money on reservoirs and maintenance as one acre of paddy needs six million litres of water.
He advised the Government to look for solutions from within the local farming communities and promote natural farming with crop diversity like Millets – Jowar, Bajra, Foxtail, etc., which ensures food and fodder while being environment friendly in these days of climate change.
Dr.MCRHRD Institute Climate and Disaster Management professor W.G. Prasanna Kumar sought introduction of coarse cereals and millets in the public distribution system and also the mid-day meals for better nutrition and since it was eco-friendly too. "Climate change calls for change in cropping and eating patterns," he said. Prof. Hymavati of Prof. Jaishankar Telangana State Agriculture University spoke about the nutritional benefits of millets.
---
First published by The Hindu