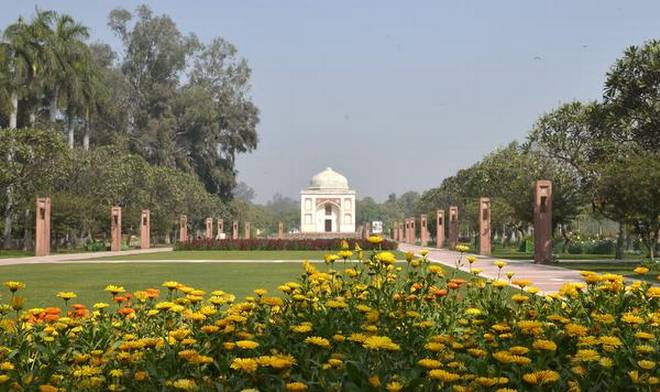 Revamped by the Aga Khan Trust for Culture to create a 90-acre city park; to be inaugurated today
Sunder Nursery that was established over 100 years ago to breed specimens for the new Capital's avenues and gardens has been revamped by the Aga Khan Trust for Culture (AKTC) in collaboration with the Central Public Works Department, Archaeological Survey of India and the South Delhi Municipal Corporation (SDMC) to create a 90-acre city park.
Spring flowers, lush gardens, natural water bodies and monuments nestled together make the urban oasis a space that can be enjoyed by those who love nature and culture and heritage.
On Tuesday, the AKTC organised a walk around the nursery detailing how it was restored from a pile of rubble to its current state.
15 monuments conserved
The space has been designed to incorporate spaces for families to enjoy a picnic, soak in some culture at the amphitheatre, marvel at the flora and fauna as well as use spaces around the lake for exercises.
The grand Central Vista at the entrance of the park which is over 500-metre-long, follows the path of the 16th century Grand Trunk Road, connecting the entrance zone of Humayun's Tomb, a World Heritage Site, with the 16th century Azimganj Serai to the north. There are 15 monuments in the area that have been conserved.
Construction rubble
Officials working to restore the park say that ever since the hundreds of truckloads of construction rubble were removed and 20,000 saplings planted, the area has drawn over 80 species of birds to the site and many more are expected once the water bodies are full.
Educational resource
"To attract the 5,00,000 schoolchildren who visit the adjoining Humayun's Tomb annually and serve as an educational resource on Delhi's ecology, a 20-acre micro-habitat zone showcases plants of the ridge, riverine, and marshy landscapes that were once found in Delhi," said an official.
Sunder Nursery will be inaugurated by the Vice-President in the presence of the Aga Khan founder and chairman of the Aga Khan Development Network, on Wednesday.
---
First published by The Hindu