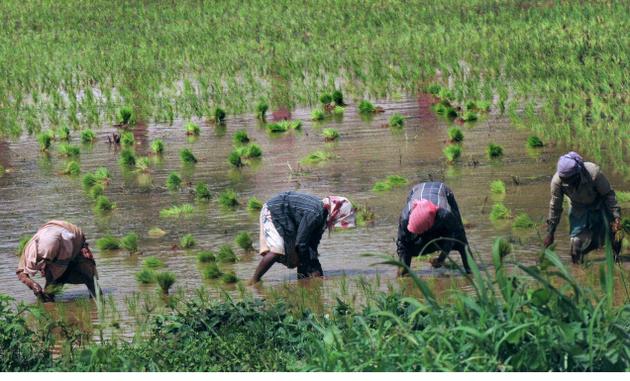 It was hardly about two years ago, a graduate from Indian Institute of Management-Kozhikode (IIMK) had started a website and android app to sell the famous brown Palakkadan matta rice grown on his 10-acre farm.
The website (dakshfam.com) and the android app (available on Google Play) have become instant hits and Prabhal Mohandas, the new age farmer, is now selling the rice directly to buyers across the country without worrying about distributors and middle men. He sells 150-200 kg organically grown rice per month for Rs 100 per kg.
It was not the case of Prabhal alone. Though generally paddy cultivation is in decline in the earlier rice bowl of Palakkad district and the area of cultivation is shrinking, many educated youngsters are entering the field of agriculture by cultivating Palakkadan matta and finding buyers for it even beyond the geographical boundaries.
The traditional red rice, which retains its outer bran layers, has five times more iron, three times more zinc and twice as much fibre while comparing with the polished and perfumed Basmati.
The new craze for Palakadan matta began seven years ago when it got the Geographical Indication (GI) tag for being a rice variety with a distinct taste. Under the registry, there are 10 varieties of the Palakkadan matta: Aryan, Aruvakkari, Chitteni, Chenkazhama, Chettadi, Thavalakanna, Eruppu, Poochamban, Vattan Jyothy, and Kunjukunj.
It was only in the Onam season, UK-educated engineer Roy George and his brother Robin George, an MBA holder from Australia, had harvested Palakkad matta they cultivated in a leased 300 acres farm land. They have marketed the organically cultivated rice through a rice distribution company owned by their family.
"We will lease more land during the next season as there are many takers for Palakkadan matta worldwide," said Robin. According to him, Palakkadan matta has a unique taste because of the geographical area it is grown in and the peculiar weather there owing to the eastern wind. "The rice is produced 100 per cent organically. We treat the soil, air, and water as important resources, respecting the delicate balance of nature. We are also committed to being a catalyst for positive change in our kitchens and our environment," says Prabhal.
"In whole grain matta rice, the rice is not polished after removing the outer layer. All the nutrients remain in the unpolished rice, whereas you don't find any of them in polished rice," he says.
With more youngsters into the field, traditional farmers are now leasing out their rice fields and thus bringing new life into an agricultural activity that was stagnant for many years. In Nallepilly, 78-year-old Vasuvamma recently leased out her 10-acre farm to a set of youngsters keen on cultivating Palakkadan matta. Suffering from rheumatism and with her three children away from home, she had no option other than leasing out the land.
The renewed focus on Palakkadan matta has inspired local bodies as well. The Perumatti grama panchayat has decided to take 120 acres of land on lease and cultivate the rice variety there with the help of Kudumbasree units.
In whole grain matta rice, the rice is not polished after removing the outer layer. So the nutrients remain intact, said an expert.
---
First published in The Hindu