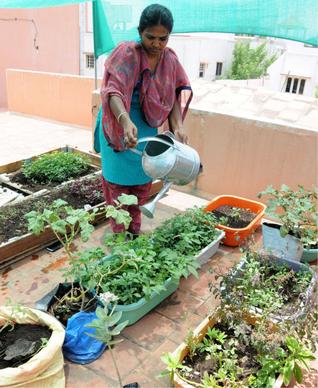 With apartments fast replacing independent houses and eating up space for gardens, a good number of residents of the Temple City have started setting up terrace gardens to add some 'green' to their place of living.
D. Archana, a lecturer at KLN Polytechnic College, who began to maintain a terrace garden nearly two years ago says there has been a sharp increase in the number of people wanting to have terrace gardens ever since the movie '36 vayadhinile' was released. "The protagonist in the film inspires people around her to take up terrace gardening to grow organic vegetables which, in turn, has inspired many people here. People are also realising the importance of consuming fresh, organic produce," she adds.
Ms. Archana says she has helped 15 people set up terrace gardens since January this year through her initiative 'Gather 2 garden'. "Hands-on training and awareness are must before people to start their own terrace gardens. While senior citizens are familiar with the basics of gardening, many youngsters are unaware of them since they have grown up in apartments," she says.
In terrace gardens, plants such as brinjal, chilli, tomato and greens, comprising spinach varieties, can be grown through the year, and creeper plants such as snake gourd can be grown based on the appropriate weather conditions.
Ms. Archana, who has conducted two workshops which saw a turnout of nearly 60 people interested in starting terrace gardens, reiterates that the healthy trend is here to stay.
S. Charanya of Chokkikulam, a housewife, who has been maintaining a terrace garden since January, says the greens grown in her garden are extremely tasty. "The components that go into the garden ensure that the vegetables are completely chemical-free. We also ensure that most of what we use for the plants is recycled from our own houses, right from kitchen waste such as vegetable peels, which can be used as a component in the manure, to using waste water from the kitchen or water from the air conditioners," she explains.
Maintaining a small terrace garden is also seen as a stress buster by many. "After a long trip, the first place I visit is my garden. Cooking and eating vegetables grown in our garden give so much satisfaction and maintaining the terrace garden is truly a stress buster," says Nambi Rajan, a resident of Nagamalai Pudukottai.
First published by The Hindu