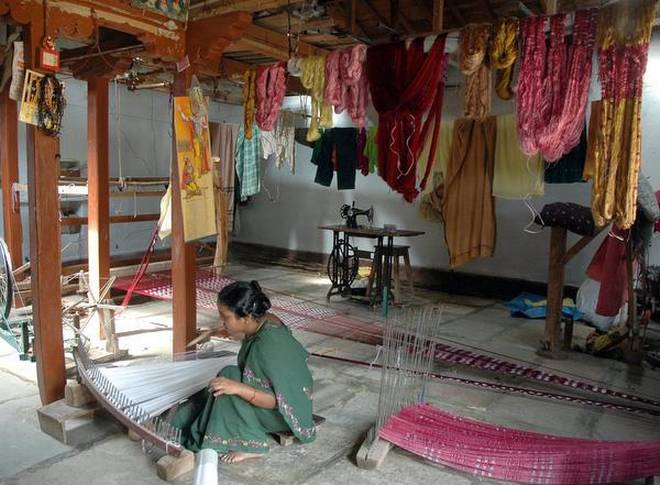 Yarn dyed in natural colours drying at a weaver's home  
As part of a programme called Disha, UNDP, Creative Bee and IDF will help women weavers step up the quality of handlooms and form a cooperative movement
Government-mooted schemes meant for the betterment of weavers and craftspeople have benefited some pockets of the State, but there are many other regions where weavers struggle to make ends meet, relying on daily wages to get by. Some of these villages in far-flung areas see women making barely ₹500 to ₹1000 per month, after spending 15 to 20 days weaving a sari. "It's heartbreaking; the women hold on to their craft because they don't know anything else, but they haven't been able to leverage their skill to better their livelihood," says Bina Rao of Creative Bee.
Rao has been travelling extensively in the interiors of Telangana and has just wrapped up a training programme for 140 women in a village near Pochampally. The training is a part of a year-long programme called Disha. Training modules will be held in villages across Yadadri, Nalgonda, Warangal and Siddipet districts, with the support of IKEA Foundation, IDF (research body India Development Foundation) and government of Telangana.
The prime objective is to promote entrepreneurship by equipping women weavers and craftsmen to understand changing market needs and learn the ropes of direct marketing. At the end of the programme, Disha will function as a women's cooperative body. Disha is a pan-India initiative by UNDP (United Nations Development Programme) in collaboration with several government and local bodies to conduct training in textiles, agriculture, handicrafts, education, women empowerment, and more.
In Telangana, UNDP is working with Creative Bee and the focus is on textiles. Creative Bee is harnessing its two-decade experience in the textile sector to help 2000 women weavers learn direct marketing and step up their production quality.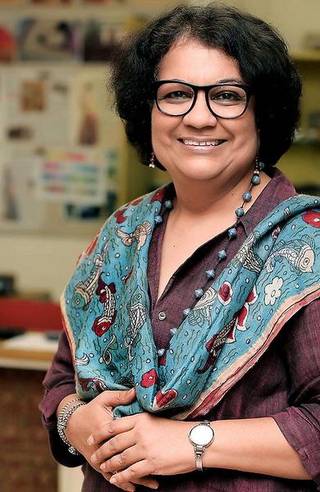 "Weavers will be trained to use internationally approved and environmentally safe VAT, reactive and acid dyes for cotton and silk; these dyes are safe on their skin as well, unlike the dyes they now use. We found many villages using naphthol dyes that are carcinogenic and environmentally harmful," says Rao.
Challenges ahead
To get things underway, despite the partners on board, Rao says there were challenges. They didn't have funds for yarn, fabric, dyes, stipend and food requirement for the training days. "Weavers won't turn up for training unless their daily wage loss is compensated," she points out. She knocked the doors of corporates seeking CSR (corporate social responsibility) funds. Some of them were willing, but only after the current financial year. Since the training had to begin, she used yarn and fabric from Creative Bee Foundation and dyes were sponsored by Gujarat-based Colourtex.
Rao points out that while many pockets specialise in ikat weaving, after the division of Telugu states into Andhra Pradesh and Telangana, we don't have a plain fabric weaving stronghold like Mangalagiri. She mooted the idea to weaver pockets in Siddipet and Sirsila and plans are on to step up plain fabric weaving.
Thinking big
Creative Bee is also reaching out to pan-India retail stores such as FabIndia and Westside, exhibitions and e-commerce portals for better reach of the products developed by the women. In addition, 40 women will be trained to form a manager cadre and handle marketing and administrative responsibilities. In principle, Rao notes that the state government has agreed to have a building that will work as an aggregation centre. "But we are also looking at a contingency plan in case it doesn't take off. For this, we are hoping corporates will chip in," she says.
Efforts are also on to enable each of these women reap the benefits of the sale of their products through proceeds that will be deposited in their bank accounts.
As a first step, women weavers will directly interact with buyers and showcase their handloom products in Hyderabad on March 30 and 31; 11am to 5pm, at Saptaparni, Road no.8, Banjara Hills.
First published by The Hindu