Thousands Join "Best Ecologist Award" Ceremony to Honour Uttarakhand's Struggling Women, Join in Call for People's Control Over Natural Resources and Development Work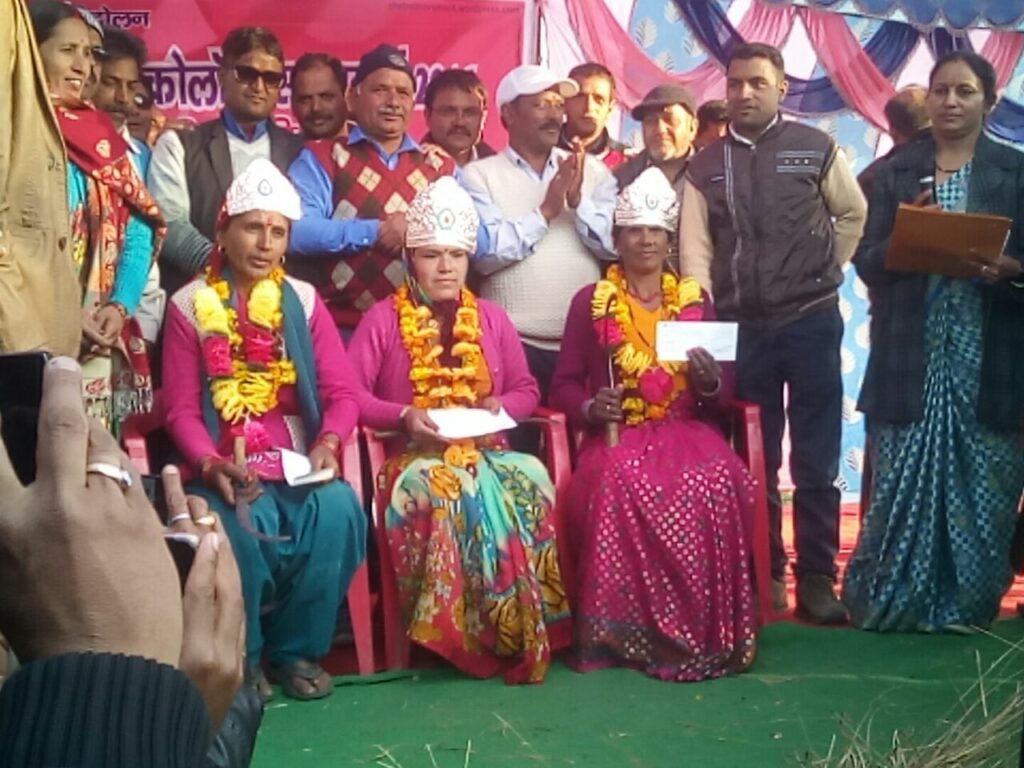 After a month long competition in which 2,386 women from 285 villages participated, thousands of people assembled to witness the final stage of Chetna Andolan's "Best Ecologist Award 2016" competition today. Participants also joined in taking an oath to fight for their rights under the Forest Rights Act, and for all development work and natural resource projects to be given to people's cooperatives and producer companies (see below).
The winner of the competition was Bimla Devi, from Chiliyal village. She received a cheque of Rs. 1 lakh and a silver crown weighing 16 tolas. In second place was Smt. Gyansu Devi from Dhansani village (a Dalit), who was given Rs. 51,000 and a crown weighing 13 tolas; and in third place was Indra Devi from Akhori village who was given Rs. 21,000 and a crown weighing 10 tolas. Participants were judged on their ability to cut grass without harming other plants, and on their knowledge of the forest and its ecosystems.
Ghasiyaris, or women who cut grass, are the backbone of Uttarakhand's rural economy and have been at the forefront of every struggle for justice in the state,from the Chipko Andolan to the Uttarakhand movement to the ongoing struggles against illegal dam and industrial projects. The Best Ecologist Award was instituted in 2015 to honour these women.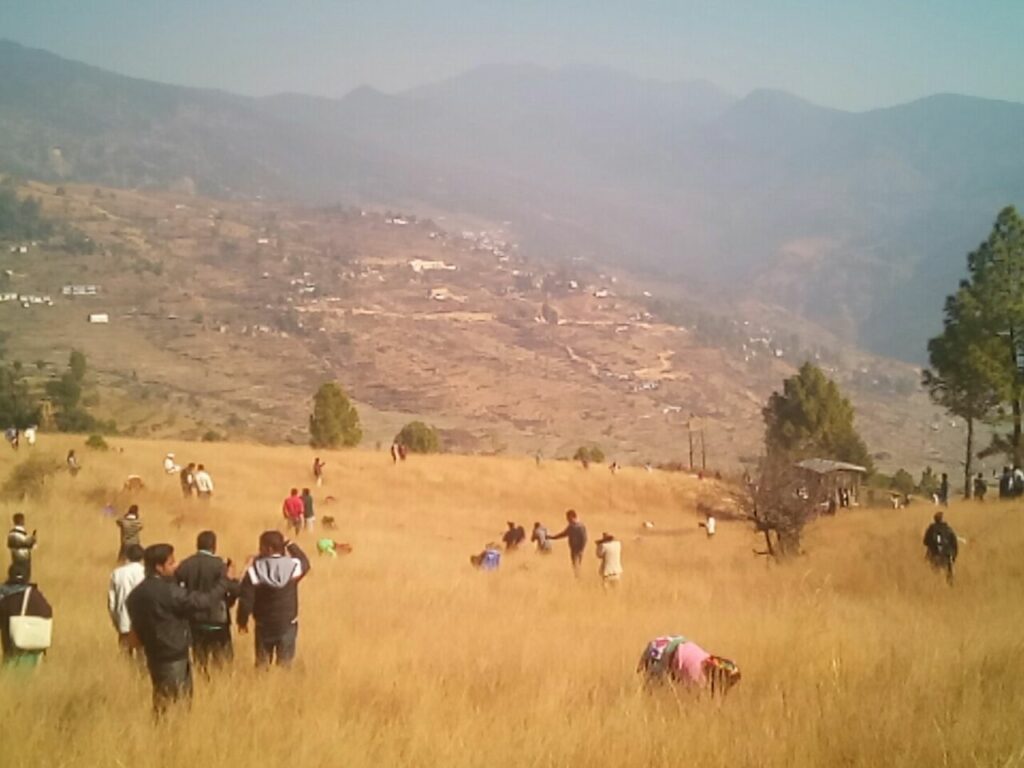 Those assembled for the final round joined hands in a call for a new movement in Uttarakhand to demand that all natural resource based projects – especially hydroelectricity projects – and government contracts should be given to producer companies of workers. They also demanded that the Forest Rights Act of 2006 should be implemented in full and community rights of villages, especially of women, be recognised.
The final meeting was addressed by local leaders, Uttarakhand's intellectuals and representatives of Chetna Andolan, including Smt. Kamala Pant (Swaraj Abhiyan), Dr. Shekhar Pathak, Rajiv Lochan Sah (editor, Nainital Samachar), Dr. Nandwan Pandey, Kalyan Singh Rawat (Maiti Andolan), Bali Singh Cheema, Dr. Ramesh Pant (environmentalist), and so on.
Contact: Trepan Singh Chauhan of Chetna Andolan
Oath sworn by participants in competition
I, <name of the participant>, agree with the following principles:
Our communities have always protected forests and other natural resources. I believe that our rights over these resources under the Forest Rights Act of 2006 must be recognised.
We have always taken on the responsibility of managing and conserving these resources, and in particular we, the women, have done so. Hence we have the first right to them.
Our greatest strength has been our sense of community (samuhikta). Hence we hold that we should have the right to democratically manage and use our natural resources through our communities.
We will protect our forests from destruction and forest fires.
We hold that true development requires that all development work and public resources are controlled and executed cooperatively – through producer companies of the workers and communities themselves. Through this we can build a new Uttarakhand for a new India.
I will work towards achieving all of the above.