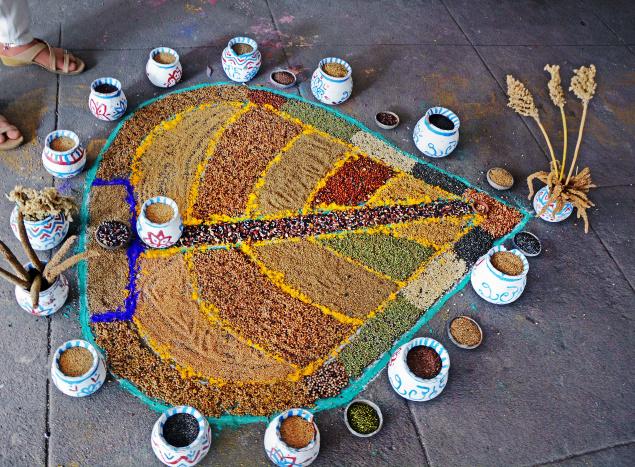 Area under millets is estimated to have come down by 70 per cent owing to change in food habits
A campaign has been launched to encourage tribal people to improve food and nutritional security and convert North Coastal Andhra into a millet hub.
The area under millets is estimated to have come down by 70 per cent over the past two decades due to change in the food habits of the tribal people.
With the distribution of rice free of cost under the Public Distribution System and drudgery in processing, storage, marketing and lack of minimum support price, most of them preferred to shift to commercial crops like cashew, coffee and sugarcane.
Millet crops like ragi, korra, sama and gantelu used to be staple crops in earlier days as part of the food and nutrition security of the tribal people. The State Government is implementing a comprehensive project for revival of millet cultivation by tribal people in North Coastal Andhra and parts of Rayalaseema.
Aims to raise output
The five-year project aims to increase productivity, household consumption, value addition by making ragi biscuits, idli and dosas, marketing support, setting up of processing centres and establishing Mana Vittana Kendras (seed production centres).
The project is under implementation through the Agricultural Technology Management Agency (ATMA), Wassan as a lead technical agency and NGOs as facilitating agencies. An interactive meet with farmers was organised at Chinthapaka village of Pinakota gram panchayat in Anantagiri mandal on Friday to explain them on the advantages of growing millets.
Project Director ATMA Lakshman Das, Joint Director of Agriculture B. Satyanarayana and Narsinga Rao of Wassan interacted with the farmers and explained the benefits of consuming millets. The Agriculture Department promised to arrange distribution of seeds at Devarapalle, which is close to them.
"The response was overwhelming. Nearly 980 tribals representing 10 gram panchayats attended. We also distributed seeds to the farmers of Kivarla, Pedakota, Pinakota and Jeenabadu panchayats and explained them on consumption particularly among women as part of nutrition security and promotion of Ragi in SRI (system of rice intensification) method," Kovel Foundation CEO V. Krishna Rao told The Hindu on Saturday.
Kovel Foundation is implementing the millets programme in Ananthagiri mandal covering 64 habitations in 10 gram panchayats. A millet stall was set up to display various types and also the process of preparing various value added products.
---
First published in The Hindu