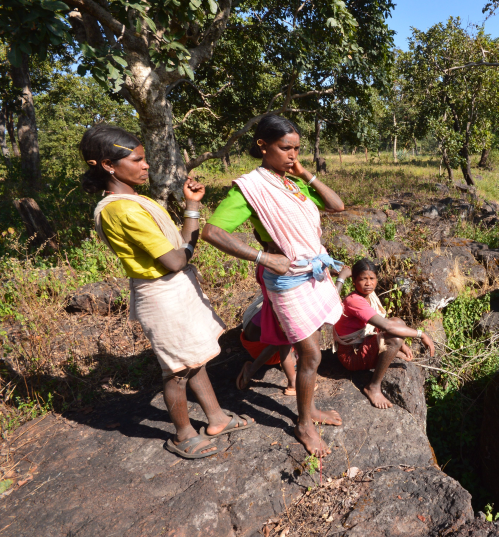 There is a diversity of arts, crafts, occupations and skills in various cultures and communities of India, not to forget the 500 denotified and nomadic tribes and over 500 scheduled tribes, many of which have forest-dependent lives. For at least the past few decades, the mainstream model of development adopted by India has received a lot of criticism. At times, the flaws in this model are admitted by the State itself. And yet, the dominant policy of our time has been to offer conventional prescriptions for all people of India, neglecting the diversity and complexity of on-ground situations.
Most of the present programmes and schemes have had a focus on homogenisation of livelihoods and on shifting people from what is usually termed as 'pre-agricultural' activities to settled agriculture. In doing this, there is a neglect of a diversity of livelihood styles including practices such as shifting cultivation, transhumance and other nomadic ways of life which can be as relevant and valuable in the present time as settled agriculture. It has been a patronizing model focused on ideas or myths of 'maximizing utility', 'integration' or 'assimilation'. This is seen, for instance, in Sariska Tiger Reserve where pastoralist Gujjars are being relocated into an environment and a life-style new for them, with an insistence and a confidence that this is better for their own good, apart from its Baiga conservation value. The on-ground reality tells another story with many of the relocation sites lacking adequate spaces for grazing, firewood and other needs, and the agricultural land not being suitable for cultivation without resource-intensive use of bore-wells for extracting groundwater.
This question regarding the ideas of development being handed out to people are increasingly becoming louder, perhaps as the disadvantages of the present approach are becoming more apparent. Predominant official approaches ignore the prevailing land-use or socio-cultural milieu of local people whereas it is crucial to accept 'well-being' as a multifaceted concept with many different dimensions that go beyond economic well-being. In case of forest dwelling communities, it has not just been the direct loss of livelihoods that has impacted well-being but equally important is the curtailment of cultural practices, the increased vulnerability, the imposed illegality and breaking down of social networks. For example, a member of the tribal soliga community residing in Biligiri Rangaswamy Temple Wildlife Sanctuary asked in a local meeting in 2011 regarding the restrictions placed on them in the name of conservation, "Why should I sign a book to go inside MY forest when I myself have to bear the risk of facing my deities and demons there?" For a forest dweller, there can be a deep psychological, social and cultural connection of well-being with their staying within the forests and continuing their many customary and cultural practices like festivals, fairs, ceremonies, traditions and occupations that have close connection to the forest. It is not just alienation from land or livelihoods but also degradation that directly impacts well-being. Degradation could be because of imposition of external 'working plans', or diverting patches for 'development' projects such as mining and hydro-electricity or tourism or even by promoting a model of unsustainable agriculture.
A flicker of hope can be seen in the legislation of Forest Rights Act of 2006 which recognizes a range of use-and-management and other customary rights of forest dwellers. The Act has been used by communities, for trying to attempt an alternative model of conservation for their community forest resource where decision making is decentralised. Implementation of the Act in its letter and spirit is itself facing a volley of institutional and other challenges. Still, the Act has helped bring the issue of socio-economic and cultural implications of policies on forest dwellers, at times giving them a voice for change.
There are many examples of such use of this Act. Through a combined effort of local knowledge, advocacy and scientific research, the abovementioned community of soligas have proved that their customary management practices, which were restricted by the forest department, had been crucial in preventing the spread of a harmful invasive species in the surrounding forests. Many of the villages of the sanctuary have received recognition of their community forest rights under the Forest Rights Act and are interested in implementing a landscape level community based conservation and management plan, once the pending villages receive recognition as well1. They have also mapped their sacred sites, an exercise which has held significance for many members of the residing community. A member of the community, Siddegowda, residing in Buthani podu commented- "The official map makes us invisible. It recognizes forest roads and bungalows, but does not mark our sacred sites"2. Another example is the incident in 2013 which gained media attention when a huge mining company (Vedanta) was refused permission to mine bauxite in Niyamgiri Hills without consent of the residing communities. This issue received attention after a decade long non-violent struggle by the residing communities (including Dongria Kondhs who have been recognized as a Particularly Vulnerable Tribal Group) asserting the need of preservation of the sacred hill, Niyam Raja and also their other individual and community forest rights. As the required process was otherwise being ignored, the Supreme Court gave an order stating that consent from the affected gram sabhas is required. As a result, the nation watched a rare environmental referendum where one after the other, each of the 12 villages said an emphatic no. In Dindori district of Madhya Pradesh, certain villages of the Baigas, are using this Act to resist coupe felling of trees in the areas recognized as their community forest resource under the Act3.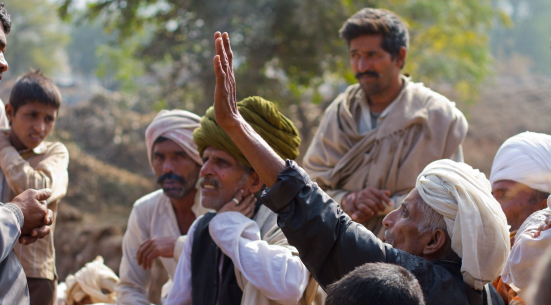 There are also some other state government initiatives moving towards a direction of decentralization and localization. There is the Nagaland Communitisation of Public Services and Institutions Act which has decentralized public services such as health and education in the state. There is the Jharcraft initiative (Jharkhand Silk, Textile and Handicraft Development Corporation Ltd) which localises the entire chain of silk production4.
While decentralisation as a buzz word is slowly catching up, a more holistic treatment of 'wellbeing' at policy level in India is still lacking. However, with discussions and debates on such aspects becoming more common, it is likely (and hoped) that these will soon seep into Indian policies. There is also an international pressure. For instance, international bodies such as the United Nations Committee on Economic, Social and Cultural Rights recommends that states are to ensure that "the means of subsistence of indigenous communities and their enjoyment of economic, social and cultural rights are effectively protected", as well as to secure "the effective participation of indigenous communities in decision-making on issues that affect them". The United Nations Declaration on the Rights of Indigenous Peoples (UNDRIP) of 2007 also recognizes 'the urgent need to respect and promote the inherent rights of indigenous peoples which derive from their political, economic and social structures and from their cultures, spiritual traditions, histories and philosophies, especially rights to their lands, territories and resources' and is convinced of the need for them having control over the development affecting their lands, territories and resources.
With the voices questioning the present model of development and conservation becoming stronger, attempts at alternatives becoming more visible and with simultaneous pressure from international bodies as a signatory of various treaties, potential spaces for envisioning different definitions of development and well-being are emerging in policies in India. It is heartening to read the 2013 recommendations of the National Advisory Council on Particularly Vulnerable Tribes5 admit that 'conventional approaches have not produced the desired result particularly with respect to reducing poverty and vulnerability' and that 'Other people's notions of development must not be imposed on PVTGs. It is essential that they must be able to determine and control the nature of development they have.' The recommendations also go on to say that 'It should be recognised that many PVTGs have their own strategies to protect themselves against times of hardships such as droughts, etc. ..It is essential that these systems are understood and not undermined by development initiatives.'
Such an admission in official recommendations is in itself a step forward. Perhaps this means that we have begun listening. And we can say that it is about time too.
1. Conservation Through Democratic Governance ↩
2. [Mandal, S, Rai, N & Gowda, C M 2010, 'Culture, conservation and co-Management: Strenghtening the Soligas stake in biodiversity conservation in Biligiri Rangaswamy Temple Wildlife Sanctuary, India', In B Verschuuren, R Wild, J McNeely and G Oviedo (eds), Sacred Natural Sites Conserving Nature and Culture, October 2010, Earthscan] ↩
3. Baigas Of Central India Battle For Their Forest Rights ↩
4. Being The Change: Jharcraft In Jharkhand ↩
5. Development challenges specific to particularly vulnerable tribal groups ↩